Emergent Vision Technologies Wins Two 2022 NAB Product of the Year Awards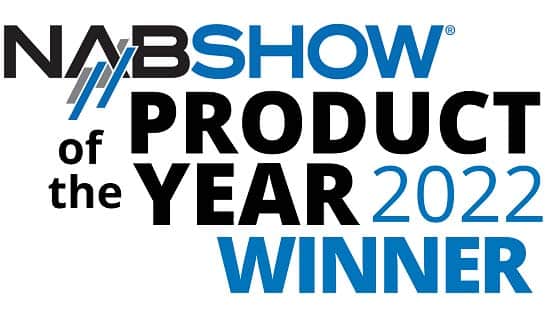 At the 2022 NAB Show in Las Vegas, Emergent Vision Technologies won Product of the Year honors for its Zenith HZ-10000-G 100GigE camera and its eCapture Pro volumetric capture and 3D reconstruction software. The annual awards — which recognize the most significant and promising new products and technologies exhibited at the show — were presented during a live awards ceremony on April 26.
1000 fps at 10 MP
Recognized in the Cameras category, the HZ-10000-G is the latest addition to the award-winning line of Zenith 100GigE cameras. Through a 100GigE QSFP28 interface, the camera can reach 1000fps. The new camera is available in monochrome and color versions and features Gpixel's GSPRINT4510 CMOS image sensor — a 10MP, 22.9 mm CMOS image sensor with 4.5 x 4.5 µm pixel size.
"Customers seeking to solve difficult imaging problems — from machine vision to sports technology imaging — require reliable, high-speed camera options," said John Ilett, president and CTO at Emergent Vision Technologies. "Our new HZ-10000-G camera adds a new model to the Zenith line that offers a lower-resolution sensor but with ultra-high frame rates at low CPU utilization."
Turnkey Volumetric Capture
In the Camera Support, Control, and Accessories category of the 2022 NAB Product of the Year Awards, Emergent Vision Technologies was recognized for its new eCapture Pro volumetric capture and 3D reconstruction software. The software provides turnkey integration, camera setting flexibility, advanced preview and recording capabilities, synchronized capture to microsecond accuracy, and calibration, background, and production take management capabilities.
Additionally, the fully scalable software delivers advanced playback functionality for spatial and time domains, camera calibration with auto camera position detection, integrated 3D reconstruction and texturing, an Unreal/Unity plugin for streaming models, and more.
"Building an application such as a metaverse stage or motion capture system requires multiple high-resolution, high-frame-rate cameras, but it also requires a means for processing and reconstructing video," said Ilett. "Our new eCapture Pro software offers customers a tool for complete project management, from camera start-up and configuration to reconstruction and playback."
Contact us today with your high-speed imaging or volumetric capture questions or challenges at [email protected].