100GigE Network Interface Card Receives 2022 Vision Systems Design Innovators Award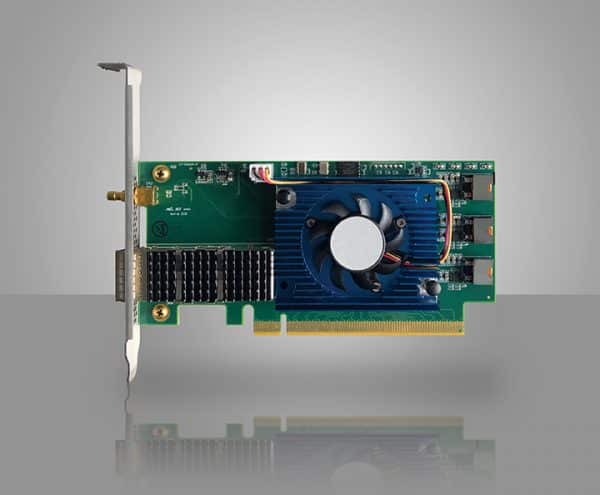 Emergent Vision Technologies' Zeus PZ-100 100GigE single-port network interface card (NIC) was recognized among the best in machine vision by judges of the Vision Systems Design 2022 Innovators Awards program. The judges are esteemed experts from the machine vision community.
The new Zeus PZ-100 NIC delivers ultra-high data/frame rates with low CPU and memory utilization, as well as low latency and low jitter in challenging high-speed imaging applications. The card is a 100GigE QSFP single-port PCIe gen3 x16 smart NIC with a front-panel 5 V TTL input trigger port. It is part of a series of progressively more powerful PC peripherals intended to allow customers to get the most out of their Emergent ultra-high-speed cameras for the widest range of applications.
"Emergent's Zeus NIC delivers the most optimal performance for any video stream, with minimal CPU and system memory utilization, as well as the absolute lowest latency and jitter, best price performance, and no licensing," said John Ilett, president and CTO at Emergent Vision Technologies. "The NIC also offers full Ethernet network compatibility, CPU offloading, a real-time front-panel trigger port, and camera multiplexing using switches."
Capable of running on Windows or Linux, the NIC targets machine vision, metaverse/volumetric capture, deep learning/artificial intelligence/machine learning, and NVMe storage applications, among others. With the Zeus PZ-100 NIC, systems integrators and OEMs can fully harness the capabilities of 10, 25, 50, and 100GigE Vision technologies and bring their high-speed imaging systems to new performance heights.
"In comparing the high-speed GigE and CoaXPress interface options on the market, 100GigE is the industry's fastest single-link solution," Ilett added. "For instance, if a systems integrator or OEM wanted to match the performance of a single-link 100GigE NIC like Zeus with single-link CXP-12, it would require eight CXP-12 links compared to just one 100GigE NIC. Since no octal CXP-12 cards exist, this would amount to using two quad CXP-12 frame grabbers versus one 100GigE NIC."
Emergent Vision Technologies offers 10GigE, 25GigE, and 100GigE NICs for your high-speed imaging needs. Contact us today to learn more.