Emergent Vision Technologies Expands Award-Winning 100GigE Camera Line With 10MP Model Capable of 1000 fps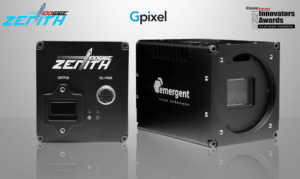 PORT COQUITLAM, BC, Canada — March 22, 2022 — Emergent Vision Technologies, a pioneer in high-speed imaging, introduces the 10MP HZ-10000-G camera, the latest in its award-winning line of Zenith 100GigE cameras. Through the 100GigE QSFP28 interface, the camera can reach 1000 fps.
Available in both monochrome and color versions, the camera features Gpixel's GSPRINT4510 CMOS image sensor — a 10MP, 22.9 mm CMOS image sensor with 4.5 x 4.5 µm pixel size. Both GigE Vision and GenICam compliant, the camera reaches 1000 fps in 8-bit mode and 810 fps in 10-bit mode.
"With the HZ-10000-G camera, our customers now have access to an ultra-high-speed 100GigE camera with a 10MP sensor that can solve challenging imaging problems, from industrial inspection to sports technology imaging," said John Ilett, president and CTO at Emergent Vision Technologies.
High-Speed, High-Data-Rate Solutions
In addition to the new HZ-10000-G camera, the Zenith 100GigE camera series comprises the 21MP HZ-21000-G, the 65.4MP HZ-65000-G, and the 103.7MP HZ-100-G — all of which are currently in stock and ready for shipping. Since launching the first 100GigE cameras on the market in 2020, the series has received multiple industry awards. In 2021 the HZ-100-G received the only Platinum Award given at the 2021 Vision Systems Design Innovators Awards, while the HZ-21000-G was named to inVISION's Top Innovation for 2022 list — the only North American–based product named to the annual list. Later this year, the company will introduce the HZ-150-G Zenith camera, which is based on a 152MP CMOS image sensor.
"100GigE cameras open doors in machine vision and imaging applications, but systems integrators and OEMs require options when it comes to sensor size and speeds," said Ilett. "Emergent Vision Technologies will continue push the high-speed imaging space forward by delivering cameras with advanced features and functionalities."
All Emergent Vision Technologies cameras provide low CPU utilization, low latency, low jitter, and ultra-high data/frame rates, with standard accessories and cabling options to cover any length. Additionally, Emergent Vision Technologies' GigE Vision cameras can be synchronized with IEEE 1588 PTP. Check out our 100GigE cameras in action in this recent demonstration video and see how our cameras can bring your application to the next level.
For more information, email us at [email protected].
About Emergent Vision Technologies
Emergent Vision Technologies was founded in 2007 in Vancouver, Canada. We are the first providers of cameras based on the 10 Gigabit Ethernet (10GigE), 25 Gigabit Ethernet (25GigE), 50 Gigabit Ethernet (50GigE), and 100 Gigabit Ethernet (100GigE) interfaces. Our team comes with a vast experience in machine vision and high-speed imaging solutions, from design to engineering, manufacturing, consulting, and technical support. Our high-speed cameras are widely used in the areas of inspection and automation, sports technology, virtual reality, 3D mapping, traffic, and more.