High-Speed GigE Vision Benefits and Breakthroughs Highlighted at inVISION Days 2021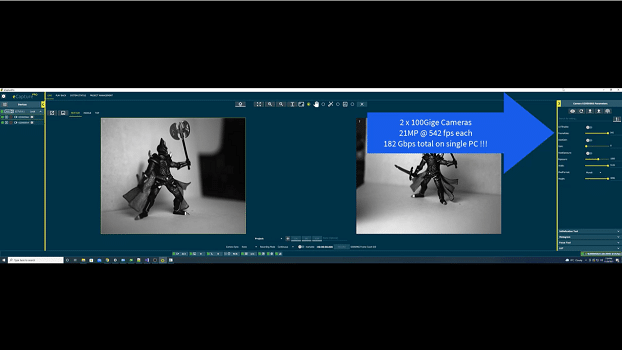 November 30 2021 | Demos include a 100GigE camera capturing 542 fps at 21 MP at 0% CPU utilization with no frames dropped.
High-speed GigE Vision technology offers many benefits to challenging applications such as machine vision and volumetric capture. These high-speed cameras offer ultra-high data/frame rates, camera multiplexing and multicasting, camera synchronization with IEEE 1588 PTP, and cabling options to cover any length, to name just a few.
In a webcast originally held on November 30, 2021, John Ilett, president and CTO at Emergent Vision Technologies, discusses 10, 25, 50, and 100GigE cameras and their various benefits applications. In the presentation, he discusses the software that works in conjunction with the cameras, including the eCapture Pro Software, which is a full turn-key software for application development.
The presentation also includes groundbreaking demonstrations with our award-winning technology, including the 100GigE HZ-21000-G Zenith camera setup with a 100GigE network interface card (NIC) and NVIDIA Xavier. This demo shows the camera capturing 542 fps and 91 Gbps at 21 MP resolution with 0% CPU utilization, minimal memory bandwidth utilization, and 0 dropped frames.
Another demo shows a Zenith 100GigE camera using GPUDirect technology, which allows a direct path for data exchange between the GPU and the NIC. Additional demos include two 100GigE cameras running on a dual 100Gige NIC and a setup with 36 HR series 10GigE cameras, a switch, and a dual 100GigE NIC.
Check out our latest presentation and see why GigE Vision has become the leading high-speed interface for machine vision cameras. For more information on our high-speed cameras, including models that are currently in stock and ready to ship, please contact us today at [email protected].