A High Speed GigEVision Machine Vision Camera Ecosystem
Area-Scan Cameras
Full Featured

0.5MP up to 150MP

Highest Possible Frame Rates

ie. 2MP @ 3462fps, 10MP @ 1000fps

Color, Mono, UV, Polarized, NIR, SWIR

10GigE, 25GigE, 100GigE

Available NOW!
Emergent Area Scan cameras are best known for covering an extremely wide range of resolutions and frame rates. We incorporate all the best sensors from Sony and Gpixel. Sony boasts very high image quality with resolutions and frame rates a perfect match for the Emergent 25GigE Bolt series and 10GigE HR series. Gpixel boasts high image quality with resolutions and frame rates that push Emergent 100GigE Zenith series to its limit.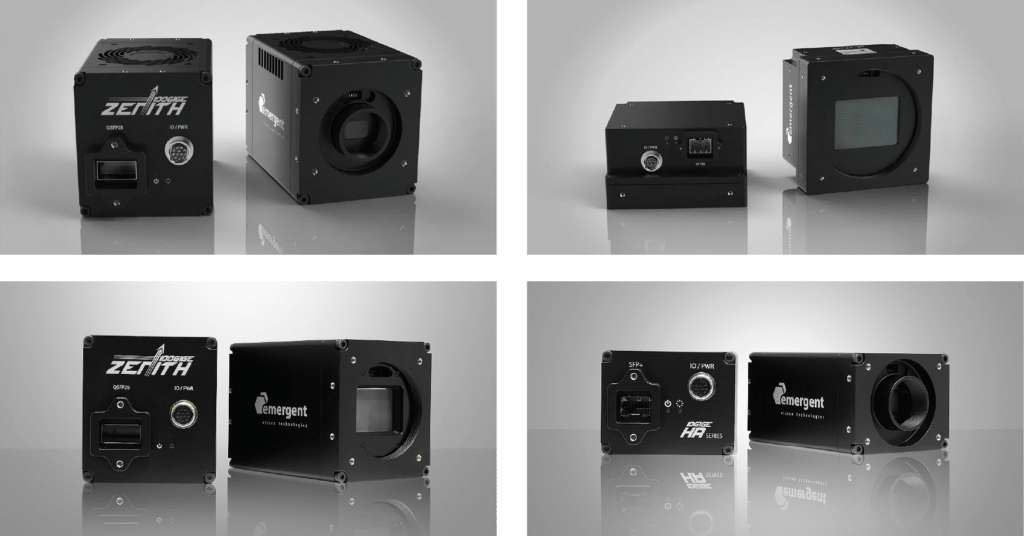 Figure: Emergent Area Scan Cameras (100GigE Zenith, 25 GigE Bolt, 10GigE HR)
Line-Scan Cameras
Full Featured
4K up to 16K
Highest Possible Line Rates
ie. 4K @ 172KHz, 16K @ 400KHz
Encoder Support
TDI
10GigE, 25GigE, 100GigE
Available now or Coming Soon!
Emergent Line Scan cameras are best known for covering an extremely wide range of resolutions and line rates. We incorporate all the best sensors from Gpixel. Gpixel boasts high image quality with resolutions and line rates that push Emergent 100GigE Pinnacle series to its limit. Emergent 25GigE Accel and 10GigE Pace models nicely round out the line scan product portfolio.
Figure: Emergent Line-Scan Cameras (100GigE Pinnacle, 25 GigE Accel, 10GigE Pace)
Camera Selector
That's a lot of high speed cameras, so to find the right camera, you can visit the online camera selector from the Emergent website. Enter in your application critical parameters to filter down to suitable models and review other more detailed specs by showing other columns. Finally click the link to go to the camera product and resource page. Works on PC or cell phone and significantly shortens the time required to find the right camera for your application.
Server Support
Turnkey System Supply
Expert Consulting
Remote Troubleshooting
Benchmarking
For those that have worked with Emergent, they know we are experts in areas of server technology and turnkey supply from low end PCs to high end dual CPU technologies. We work with you to ensure you have all you need for the most productive development and deployment and we're always there to lend a hand when you have difficulties with extremely quick turnarounds on even the most challenging problems.
SSD Support
U.2
M.2
Benchmarking
Troubleshooting
We are experts in U.2 and m.2 storage solutions.
RAID Card Support
U.2
M.2
Benchmarking
Troubleshooting
We are also experts in the associated host cards for these storage devices.
GPU Technology Support
Discrete GPU Support
Orin/Xavier Support
Fully Integrated
We also have tested and fully integrated solutions for Nvidia GPU based products to allow quick prototyping with any Emergent cameras. And most importantly, we support GPU Direct on both Windows and Linux.
FPGA Support
FPGA Cards
Emergent Core
Custom Code
Fully Integrated
We also have solutions for those wanting to develop and integrate custom FPGA image processing for their most demanding applications.
Network Card Support
Network Cards
NVidia/Mellanox
Broadcom
Emergent
Zero Copy
GPU Direct
Diagnostics
We support the major NIC brands like Mellanox and Broadcom with GPU Direct support and through our performance drivers we easily provide the best in class performance with 0 data loss. Emergent provides its own FPGA based cards for more specialized applications.
Full Switch Support
Many brands
Fully integrated
Troubleshooting
Diagnostics
We are experts in switch technology and have solid relationships with the major switch manufacturers. We can give you ground up support in switch programming and integration and take this right through to deployment as we do with our turnkey customers.
Cabling Support
Transceivers
Any length
Fiber
Direct Attach (DAC)
AOC
Diagnostics
We have Emergent certified cabling and transceivers to ensure the product you use will perform appropriately.
Lens Support
Canon EF
Canon F-mount
TFL
C-mount
Custom Adapters
Auto Iris/Focus
Canon EF support is available for auto iris and focus applications. Standard mounts are supported, and custom adapters are an option as well.
Software
Comprehensive
Best Performance
Emergent eSDK
Multi-Camera
Multi-Server
GPU Support
FPGA Card Support
SSD Support
Switch Support
Windows/Linux
Rapid Prototyping
GenTL
Lastly, the glue that holds it all together. Our award winning eCapture Pro and eSDK are the most flexible and comprehensive softwares available from any camera manufacturer. Here we answer the question about what we do with all of this high-speed data that the cameras output.
Our eSDK is the low-level software programmer option for complete custom application flexibility. It has runnable source code examples which exercise all the critical functionality like efficiently grabbing frames, PTP synchronization, GPU Direct, Multicast, IO triggering, and more.
Our eCapture Pro software is more application based with a focus on system deployment, rapid prototyping, and includes options for customized GPU and FPGA card processing. We handle all the heavy lifting associated with bringing images to your processing resource and do so with top performance. You focus on your application code.
Let's watch eCapture Pro in action in the following video. Seeing is believing.
Software – 3rd Party
GenTL Support for Performance

Cognex AIK Support

MVTec Halcon support

NI Labview support

…and more

Available NOW!
And for 3rd party softwares that have high performance GigE drivers or those that utilize GenTL for access to our top performance drivers, one can use Emergent cameras quite effectively in these environments.
About Emergent Vision Technologies

Here is a recap of what Emergent is all about…
10+ Awards for innovation and pioneering the high speed GigEVision imaging movement
10+ years shipping 10GigE cameras with more than 140 models
5+ years shipping 25GigE cameras with more than 55 models
2+ years shipping 100GigE cameras with more than 16 models
Camera technology performance leader
Focused on high-speed Ethernet/GigEVision
Focused on enabling the processing of high-speed image data
UV, NIR, Polarized, Color, Mono models for multispectral applications
Emergent eSDK for full application flexibility
Emergent eCapture Pro for a highly comprehensive software solution
Most comprehensive range of product and support for high-speed imaging applications
Any speed, any resolution, any cable length

Available NOW!
We are a multi-award winning company with a focus on high speed GigEVision product.
We have many years shipping product ranging in speeds from 10GigE up to 100GigE.
We have a strong focus on providing end-to-end technologies and support for our customers applications.
We can fullfil most application needs.
Lastly, products presented are available now.
Adoption of 10GigEVision and Higher
Here is a quick snapshot of the adoption of GigEVision products ranging in speeds from 10GigE up to 100GigE. Emergent has shown how top performance can be achieved and opened up many markets including machine vision to the use of such technologies. Some companies are just now leveraging our efforts toward releasing 25G and higher speed products but still a ways to go to release ratified and performance products.
Figure: Emergent Vision Technologies is the first provider of cameras based on 10GigE, 25GigE, 50GigE, and 100GigE interfaces.